Majestic Japan
Booking Dates
04/02/2023 through 11/05/2023
Travel Dates
04/02/2023 through 11/08/2023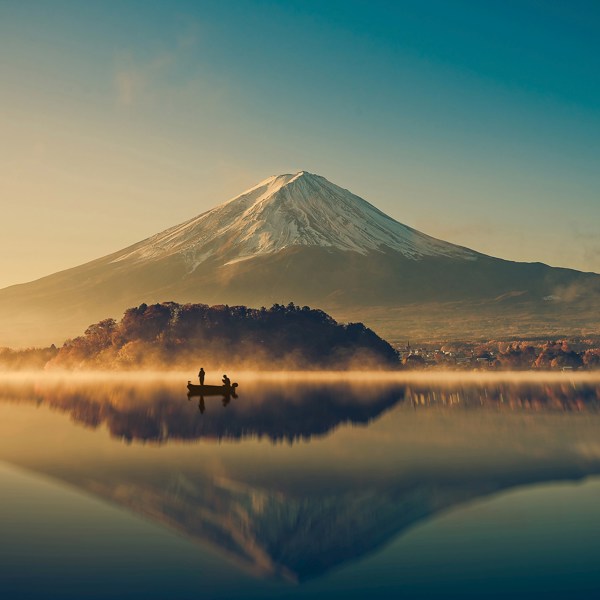 Majestic Japan
Be captivated by the beauty and traditions of Japan during this 11-day guided tour. Travel to Kyoto, a cultural hub for the country, where you can bask in the serenity surrounding the iconic Golden Pavilion. See the Giouji Temple – a Buddhist place of worship set amidst a moss-covered forest – and feast on a traditional Kyo-Kaiseki lunch as you watch an apprentice geisha perform beside you. In Tokyo, choose to make decadent sushi rolls using the finest quality fish during a private cooking class or join a Local Expert and explore the fashionable Omotesando and Harajuku neighborhoods before sampling a local lunch. Then discover the river valley of the Oirase Gorge, walking along its crystal-clear waters while marveling at the amber leaves that surround you. Later, journey to a local brewery for a private sake tasting and behind-the-scenes tour, led by a sake brew master.


Dining Summary
5 Dinner (D)
10 Breakfast (B)
9 Lunch (L)
Choice Highlights
Choose between two carefully selected activities
Mt Fuji: Visit the Itchiku Kubota Art Museum, where you'll enjoy its unique architecture, wander the serene gardens and marvel at its collection of beautiful kimonos.
Mt Fuji: Ride the Kachi-Kachi Ropeway cable car to fully embrace the breathtaking views of the lake and the mountain.
Choose between two carefully selected activities
Tokyo: Participate in a private sushi-making class in Tokyo and discover why it takes ten years to perfect this 2000-year-old Japanese art from a master sushi chef. Afterwards, enjoy a freshly prepared Highlight Lunch where you can marvel at his culinary brilliance.
Tokyo: Join a Local Expert and head to the Omotesando and Harajuku neighbourhoods known for their fashion, art and design before indulging in lunch.
Additional Included Highlights
: You will be escorted by one of our fine Travel Concierges, handpicked to serve as your expert guide, consummate organiser, and friend overseas.
: Personal radio headsets give you the freedom to wander during visits to famous highlights, without missing any of your Local Expert's fascinating commentary, available on departures with 15 or more guests.
: At every hotel, you'll be treated to seamless baggage handling, with prompt delivery inside your room.
: Hotel and restaurant tips are included – you'll never have to worry about how much to give, nor search for foreign currency. We also include all taxes and porterage charges at hotels.
: Stay connected with friends and family with hotel Wi-Fi (where available).
: Complimentary, private airport transfers are included on start and end dates and when additional accommodation has been booked through Luxury Gold. Guests will be transferred with fellow Luxury Gold Travellers that arrive on the same flight. Complimentary train station transfers are included when train travel is included within the itinerary. Transfers to train stations or alternate hotels, in the same start or end city of the itinerary, may be requested but are not guaranteed.
Exceptional Dining
Osaka: Discover why Osaka is known as the kitchen of Japan on a stroll through Donburi street with a Local Expert. Taste local specialities such as rounds of ground octopus wrapped in batter, called Takoyaki.
Hiroshima: Indulge in the local favourite of Okonomiyaki, a savory pancake dish consisting of wheat flour batter and other ingredients cooked on a teppan.
Kyoto: Enjoy a performance by a Maiko, an apprentice Geisha, skilled in the art of classical dance and entertainment, as you savour a Highlight Lunch of traditional Kyo-Kaiseki cuisine. Admire the balance of taste, texture and colour in this Kyoto speciality.
Tokyo: During a Your Choice Evening, choose from two hand-picked restaurants, each specialising in local delicacies. Try Shabu-shabu, sizzling hotpots of meat and vegetables, or Teppan-yaki, where rice, meats and vegetables are freshly cooked on the grill in front of you.
Sendai: Experience a truly Japanese tradition when you enjoy a tea ceremony at a traditional tea house. Learn the art of making the perfect matcha green tea as you follow the custom.
Oirase: Enjoy a rare opportunity to meet a brewmaster, Takumi Sato, and learn about the essence of sake in a special guided visit of his brewery. Share some of the sacred drink of Japan in the stunning surroundings of Oirase.
Tokyo: Tradition meets innovation as you enjoy a fine dining experience with new friends at Hoshinonaruki. Using age-old Japanese culinary techniques and seasonal ingredients, this is a dining experience that truly brings the flavour of the country to life.
Journey Highlights
Osaka: Explore the fascinating Osaka Castle, a famous landmark that was pivotal in the reunification of Japan during the 16th century. Marvel at the variety of cultural artefacts showcasing the history of Osaka.
Osaka: Visit the top of the Floating Garden Observatory in the Umeda Sky Building for incredible city views.
: Experience travelling like a local as you ride the high-speed bullet train. Catch views of snow capped mountains and quaint Japanese towns as you journey between each city. This feat of modern engineering brings new joy to train rides.
Hiroshima: Spend some quiet moments in the emotive Hiroshima Peace Memorial Park and see the A-Bomb Dome, the only structure left standing.
Kyoto: Wander around the famous Giouji Temple, where the bamboo trees and green groves inspire relaxation. This tiny temple with the thatched roof entrance is a sanctuary and one of the most scenic temples you'll see in the city.
Kyoto: Join your Travel Concierge for an orientation of Gion neighbourhood, known as Kyoto's geisha district. See well-preserved wooden machiya h…

| Day | Description | View All |
| --- | --- | --- |
| Day 1 | Welcome to Osaka, Japan! | Details |
| Day 2 | Highlights of Osaka Relaxed Start | Details |
| Day 3 | A Local Perspective on Hiroshima | Details |
| Day 4 | The Temples and Geisha of Kyoto Relaxed Start | Details |
| Day 5 | Mt Fuji and on to Tokyo | Details |
| Day 6 | Explore Traditional Tokyo Relaxed Start | Details |
| Day 7 | Journey to Sendai | Details |
| Day 8 | Tsugaru and Hirosaki Castle | Details |
| Day 9 | Exploring Oirase Relaxed Start | Details |
| Day 10 | The Highlights of Tokyo | Details |
| Day 11 | Farewell Japan. | Details |